BER Oy has signed a contract with Pirkan Opiskelija-asunnot Oy (POAS) to install the patented biowaste recycling system, the BER™ system, in an apartment building being constructed in Hipposkylä, Tampere. The new construction project will consist of 66 apartments, each of which will be individually connected to the BER™ system. The estimated completion for the project is the end of 2024, and the main contractor is Pohjola Rakennus Oy Suomi.
The BER™ system comprises of food waste disposers in each kitchen, sewer pipelines for biowaste and a common BER™ collection tank. With this system, recycling of biowaste is handled directly from the kitchen. In the system, biowaste is rinsed through the disposer into its own separate pipe leading to a ventilated collection tank. In the tank, most of the water is separated from the biowaste, and the separated water is lead into the sewage network. The tank is emptied by a suction vehicle as needed by the waste management company. The underground location of the BER™ tank helps to prevent many of the problems associated with traditional biowaste bins, such as the potential freezing of biowaste, odor and pest issues. It also makes biowaste collection and further processing more convenient for waste management companies.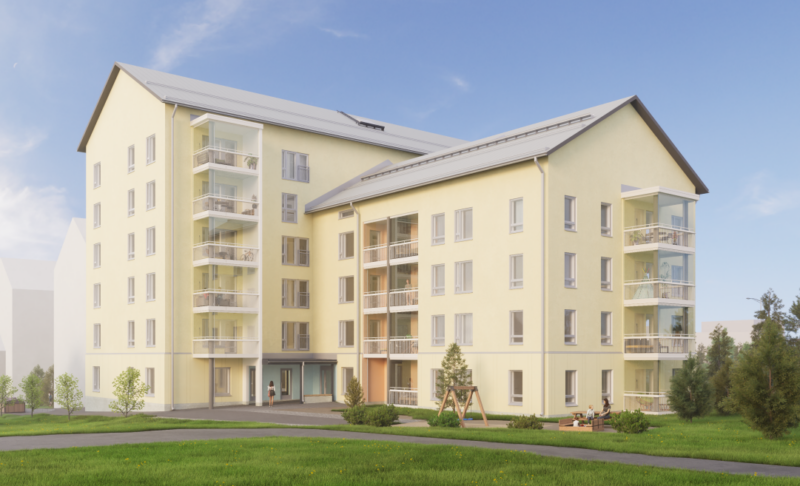 -We are very pleased that the BER™ system will be implemented in this apartment building and POAS, as a socially responsible company, has been an excellent partner for this project. Our collaboration with them has gone very well. After several years of planning and product development work, this is a significant step for us, says CEO Joonas Salonen.
-POAS is committed to the Carbon-Neutral Tampere 2030 initiative and we will make substantial investments in various projects supporting this goal from 2023 to 2030. In the Hipposkylä project, in addition to geothermal heat and solar electricity, the BER system will support our objective through reduced transportation costs. Furthermore, it will also enhance the overall living experience, states POAS CEO Timo Jokinen.
Timo Varsala, the Technical Manager of Tampere Regional Solid Waste Management Pirkanmaan Jätehuolto Oy, emphasizes: "It is important to separate biowaste from other waste at the source. When the system is user-friendly and easily accessible for consumers, it can improve waste quality. Additionally, this system eliminates the need for plastic or paper bags in waste sorting bins which are currently in use. Most of the water which adds extra weight to biowaste, can also be separated from the transported biowaste".